Why Should You Consider Investing in Car Washes?
There are many niche asset classes that have risen in popularity over the past several years, and car wash investments are indeed one of them — and it's just getting started. The professional car wash industry is expected to grow at a 3.1% compound annual growth rate (CAGR) from 2022 to 2030.
And while owning a car wash probably feels impossible, impractical and unappealing as an individual investor, there are plenty of non-ownership routes like investing that allow you to get a piece of the pie, particularly as an accredited commercial real estate investor.
That's where our starter guide comes in — to distill the pros, cons and considerations of car wash investments, plus how to get started with your own car wash investment.
Is a Car Wash a Good Investment?
Generally, car wash investments are a solid option for many investors. From a fundamental real estate investment perspective, low construction costs and short construction timelines for car washes present an attractive investment opportunity in which investors can capture cash flow faster with a lower dollar investment amount.
Not to mention: the car wash industry is growing. The global car wash market reached a record high of $29.3 billion in 2021. North America alone accounted for more than half the global revenue in 2021, with over 72% of U.S. drivers regularly using professional car washing services.
Some key factors driving industry growth include an increasing consumer focus on car maintenance and more spending power. The quest for convenience is also a top driver, with more people choosing quick professional car washes over washing at home.
Several unique facets of the COVID-19 pandemic encouraged even further growth with lasting effects. No-touch car washes have earned "essential business" designation in a number of markets, and rideshare services like Uber and Lyft now require routine professional cleaning of vehicles, potentially boosting demand.
"The end result [of a car wash investment] is an asset class that consistently demonstrates high cash yields and long-term stability when operated by experienced management."
– Asset Management Experts at EquityMultiple
What To Evaluate Before Investing in Car Washes
In today's car wash industry, customer experience and operational efficiencies are tantamount to the facility's success. For this reason, it's wise to familiarize yourself with the business plans and potential operators for the car wash you're considering investing in.

Location Scouting
Location, location, location. As the saying goes, the crux of a car wash investment lies in its location. Proximity to major retail destinations and/or high-traffic areas — especially those without much local competition — can determine the property's ability to generate ongoing cash flow.
There are several other location-specific considerations to keep in mind, including climate. Car washes are seasonal businesses in many areas. In snowy climates, for example, car owners tend to get their cars washed more often in the winter to remove salt. On the other hand, car owners generally don't get their cars washed as often during the rainy season.
Car washes also have specific zoning requirements, so be mindful of development sites that exist within a mostly built-out market or urban area. This can pose challenges for permitting, which can be a lengthy process.
And because rideshare services require routine car cleaning, keep in mind the volume of local rideshare vehicles.
A good location can even provide potential downside protection should the car wash business fail to generate cash flow as projected, or cannot cover investors' entitled return. In this case, the property owner could easily reposition the facility into another type of retail unit, such as a fast food restaurant, auto repair shop, or customer service office.
Operating Costs
Car wash operators strive to keep ongoing operating costs low in order to unlock profit margin. A significant portion of the operating costs of a car wash occur as one-time fixed payments for equipment. Potential investors must also consider heavy utility costs from power and water use as well as employee pay, though total employment in the car wash industry is actually shrinking.
Overall, ongoing operating costs are low, and car washes generally experience 30%-35% average operating expense ratios.


Car Wash Technology
The car wash industry is turning toward technology-enabled solutions for revenue and expense management to boost profitability. To stay on top of the competition, car wash facilities are modernizing themselves with innovative customer processing systems and smarter equipment to cut back on chemical and water waste, while maximizing customer experience and retention rate.
That said, it's always helpful to evaluate the technology and equipment used at the specific car wash you're interested in investing in, including output capacities and machine warranties, to get a better idea of how long machinery is expected to last and how often owners need to replace it.
The 5 Types of Car Wash Systems
There are five different types of car wash systems today, ranging from hands-on service to completely hands-off. Each type has its own considerations that affect operating costs — and in general, lower operating costs mean more profit for the business and, in turn, increased investor returns.

Full-Service
A full-service car wash includes thorough cleaning of both the exterior and interior of the car. This usually involves an attendant hand-washing the car, but may offer a luxury tunnel option. The driver will exit the car and wait in a nearby location for the service to be complete.
Detailing services may include:
Exterior wash with high-quality products
Polishing and waxing
Tire and wheel detailing
Window cleaning
Headlight restoration
Vacuuming
Upholstery cleaning
Full-service car washes are the most labor- and time-intensive type of wash, so they are also the most expensive option for both the customer and the owner. Because this type of car wash has high operating costs, this could translate to lower investor returns.
In-Bay Automatic
In-bay automatic car washes are perhaps the most well-known type. This is when a car drives into the wash structure and stays stationary during the wash while the machinery moves around the vehicle. The car stays in park — so the driver never leaves the car — and doesn't move until the wash is complete.
Because machinery is responsible for cleaning the car, this type of wash doesn't require employees. Low operating costs, lower water consumption and the ability to fit into smaller spaces make in-bay car washes a popular option among operators, while also saving customers time and money. In fact, the in-bay type segment accounted for over 46% of the car wash services market in 2021.
Investor Intel
In-bay automatic and express exterior car washes don't require company personnel on-site, significantly reducing labor costs, which lowers overall operating costs and creates potentially higher returns for investors.
Express Exterior
An express exterior car wash uses a conveyor belt to move vehicles through the tunnel while stationary machinery does the washing. Similar to an in-bay automatic wash, the driver stays inside the car during the washing process. Many express car washes also offer vacuums customers can use to clean the interior of their cars themselves.
As the name suggests, express washes are quick, typically lasting six minutes or less. The conveyor system also allows more than one vehicle in the tunnel at once, so it's a convenient option for customers who need a quick and inexpensive service. Because an express car wash has the ability to wash up to 150 cars per hour, these systems may require more regular maintenance than other systems, though day-to-day operating costs remain low.
Self-Service
A self-service car wash features an empty bay structure where the driver pays to use equipment and chemicals to wash their own vehicle.
This means there are little to no labor costs required, and aside from routinely checking the equipment and products, they require minimal daily involvement from the owner or employees.
Keep in mind, however, that self-service car washes may not be profitable year-round — depending on the location's climate — since car owners tend to wash their own cars less frequently during colder seasons.
Flex-Serve
Flex-serve car washes are a combination of full-service and express car washes. The driver typically chooses an automated car wash base with options for additional exterior or interior detailing services. Exterior detailing services may include tire shining or bug removal via automated equipment. Interior detailing services are typically also available by car wash attendants.
Because of the interior detailing option, flex-serve washes have higher labor costs than other fully automatic systems, which increases operating costs. This can potentially lead to lower investor returns.
How To Invest in a Car Wash
This is where Gary McKae and McKae Properties come in to help and evaluate. 3 years of P&L is a starter, followed with 3 years of Tax Returns with the most current past year included. Creation of EBITDA by removing non-related expenses, accrual expeses, depreciation and taxes just to name a few. Finding a lender under SBA guidance to finance the purchase and evaluate the price recommended for the purchase. Considring all Cash Offers, Seller fiancing Offers. Most importantly using CAP RATE Analysis to determine a offering price, then working backward with the various financing choices.
The overall life cycle of a car wash investment might look like this:
Acquisition: Sponsors identify projects that would benefit from additional capital.
Underwriting: Sponsors outline their investment theses. This often involves reviewing assumptions and performing thorough due diligence.
Financing: Investors view live offerings and fund their investment. Sometimes offerings become oversubscribed (like past car wash offerings), so investors can join a waitlist to get early access to the next one.
Closing: Once the project's investment goal has been reached, the offering closes and is no longer available for new investments.
Asset and fund/portfolio management: An asset management team evaluates the performance of each asset on a regular basis and generates quarterly investor reports.
Disposition: Asset managers reconcile all distributions and principal payment.
To further explore if a car wash investment could be right for you, let's go over the pros and cons.
Pros and Cons of Car Wash Investments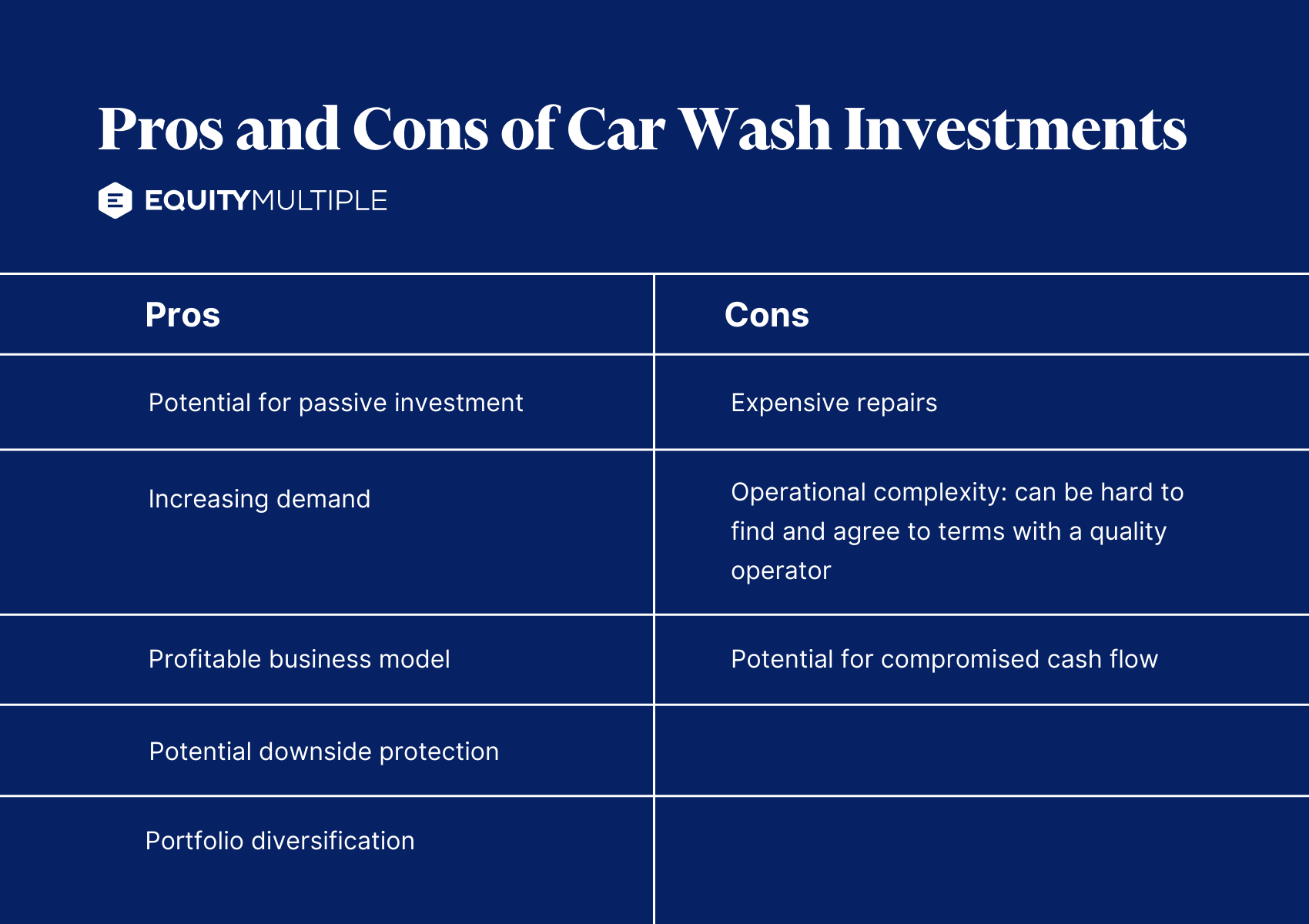 As with any investment, car wash investments come with risk. Generally speaking, however, they can be a lucrative, stable investment opportunity. Keep reading to explore the advantages and disadvantages of a car wash investment.
Pros of Car Wash Investments
Pros of investing in a car wash include:
Potential for passive investment: With low initial construction costs and a short construction timeline, automated and optimized car washes can turn into a completely passive investment relatively quickly.
Increasing demand: Several industry trends and macroeconomic factors, including more rideshare vehicles on the road and more reliance on cars as a result of the pandemic, are driving increased demand for car washes.
Profitable business model: Asset values and cash flows are based on a profitable, replicable business model, creating long-term stability.
Potential downside protection: In a downside scenario, the car wash property could be sold and repurposed for a different kind of business, especially if it's in a prime location.
Portfolio diversification: Car wash investments are an excellent way to diversify your portfolio, with lower operating expense margins than typical operating expenses involved in core CRE asset classes.
While these advantages sound promising, there are some challenges to consider before making an investment decision.
Cons of Car Wash Investments
Cons and other considerations of investing in a car wash include:
Expensive repairs: Specialized car wash equipment can be expensive to fix or replace when pieces break, significantly lowering your income stream in the interim.
Operational complexity: One of the most important drivers of a successful car wash business is a committed, quality operator, which can be difficult to find.
Potential for compromised cash flow: Unlike multifamily, office or industrial real estate, the value of car washes depends on an elective product, so cash flows could be compromised if demand slows.
For many commercial real estate investors, the advantages may outweigh the disadvantages here.
The Bottom Line
While all investments come with some degree of risk, a car wash investment can be a solid option for investors looking to diversify their real estate portfolio. If you're interested in learning more about the car wash asset class or if you're ready to take the next steps to invest. Call, text of email Gary at gary@mckaeproperties.com or 650-743-7249 for text and call
Contact Info
DRE#: 01452438

eXp Realty of California
McKae Properties
2603 Camino Real, Suite 200
San Ramon, CA 94583